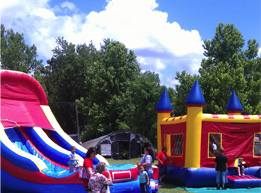 Market Attractions
Jacksonville Flea Market Fun!
Pecan Park Flea & Farmers' Market is the best flea market in Jacksonville! Free parking and $0 entrance fee equals FREE FUN for the whole family! Come out and join us! Our open-air, covered shopping area allows you to shop come rain or shine.
Come out and join us. Great food, free fun and an excellent selection from our many Merchants!
Many Jacksonville Farmers Market Attractions
Come play in the bouncy houses or play a 9-home game of mini golf.
Buy fresh produce, delivered daily.
Stop by and watch as glass figurines are hand-blown.
Enjoy delicious food including filet mignon steak sandwiches, wraps, Philly cheese steaks on bread made from Philadelphia, hand cut fries and teriyaki wings. Check out the BBQ - you won't regret it.
Stop by The Beer Pond and relax. Sometimes you might even catch a song sung by one of The Beer Pond owners.